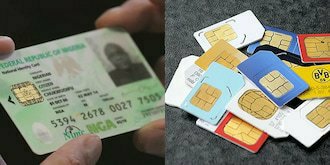 The Nigerian Communications Commission has reportedly said there will be no mass disconnection of telecom subscribers as a result of the ongoing linkage of National Identity Numbers (NINs) with SIM cards.
Daily Trust reports that the NCC in a statement on Wednesday, January 6, said the clarification was necessary to allay the fears of subscribers and the general public.
The commission's spokesperson, Ikechukwu Adinde, was quoted to have said that a recent survey there are now approximately four to five SIM Cards to every Nigerian subscriber.
He said this explains the basis of allowing the linkage of up to seven SIMs to one unique NIN in a recently launched portal by the Nigerian government.
Adinde noted that if there were 43 million Nigerians with NINs, this could account for about 172 million SIMs already linked with NINs.
The NCC's spokesperson explained that the ongoing exercise of linking NINs with SIM cards is for the benefit of all Nigerians.
Join Whatsapp for latest Update