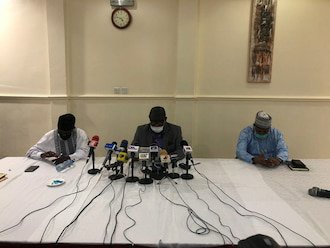 Members of the Senior Staff Association of Nigerian Universities (SSANU) and Non-Academic Staff Union of Educational and Associated Institutions (NASU) have announced an indefinite strike action.
The two bodies, on Friday, January 22, announced that all their chapters across all universities and inter-university centres will begin to strike on Friday, February 5.
In a statement released to pressmen, the bodies said they are giving a two-week notice and ultimatum to the federal government to entertain their demands beginning from today (Friday, January 22), AIT reports.
recall that prior to this announcement, NASU and SSANU had earlier agreed to embark on a three-day protest and strike.
The bodies on Sunday, January 10, announced that the planned industrial action will kick-off from Tuesday, January 12.
In a Memorandum of Understanding (MoU) signed by the heads of the unions, unaddressed issues like irregularities in the IPPIS payment, the non-payment of earned allowances, and arrears of minimum wage, and the delay in the renegotiation of FGN-NASU and SSANU 2009 agreements were outlined.
Added to this, SSANU and NASU claimed other unresolved issues include the non-payment of retirement benefits of outgone staff members, arrogation of powers by teachers in the non-teaching units, the abandonment and poor funding of state universities by the federal government.
Join Whatsapp for latest Update