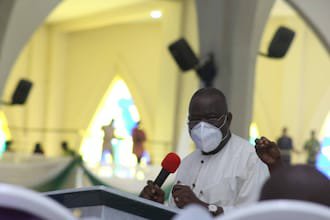 The rumour that a former president, Goodluck Jonathan, is planning to defect to the All Progressives Congress (APC) to pursue a presidential ambition has been dismissed.
Jonathan has affirmed his loyalty to the Peoples Democratic Party (PDP), describing the party as an organization that carries people along.
Leadership reported that the former president made the statement at a thanksgiving service held to mark the one-year administration of Governor Douye Diri in Bayelsa state.
He said:
"PDP has been a very friendly party, I am a member of PDP and I know from the beginning till today, it has been a very friendly party, PDP is a party that carries everybody along and we should extend that at Bayelsa State level, that starts it in Bayelsa State so that all those who are in the political process so that at the end of any political contestation for the governorship or any other office, let us work together for the interest of our people."
Join Whatsapp for latest Update