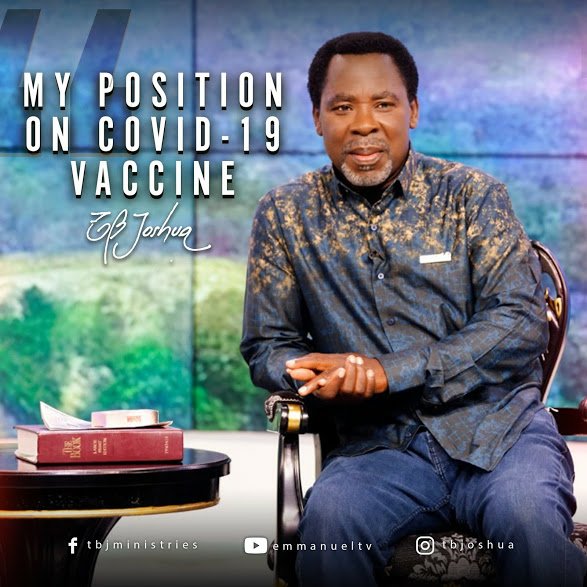 Whilst other men of God are quiet and others building different conspiracy theories concerning the covid 19 vaccines,prophet TB Joshua has given the covid 19 vaccine the thumbs up and has spoken up for the first time on the vaccine, a subject which has been the source of much controversy and conspiracy, especially within Evangelical Christian circles.
"Concerning the ongoing situation in the world, I have received thousands of emails on the COVID-19 vaccine," the cleric stated in a special message broadcast on his Christian channel on Emmanuel TV.
"No doubt, there are many conspiracy theories surrounding this vaccine. However, my belief is that our governments are only trying to look for a way out of this very challenging situation, although there may be bad faith in certain quarters," he acknowledged.
"Many people have complained of some negative reactions but this is always the case with vaccines of this nature. I remember I used to have such reactions whenever I took chloroquine," he continued, citing his personal experiences.
"That does not mean chloroquine is bad. It works positively for many. At this time, our governments need our support and our cooperation – because the world is in a dilemma," he concluded in his customary parabolic fashion.
Join Whatsapp for latest Update