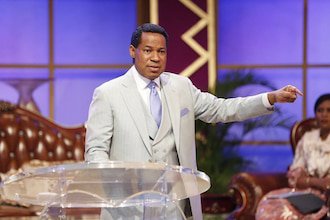 People who are fond of criticizing clerics such as pastors and other ministers of God are cursed.
This is the position of Pastor Chris Oyakhilome, the founder and president of LoveWorld Incorporated, also known as Christ Embassy.
The Cable reports that the popular cleric made his position known during Christ Embassy's cross over service on Thursday, December 31.
Pastor Chris said it is not the place of anyone to accuse ministers or criticize clerics and he quoted a Bible verse to back up his claim.
The pastor said:
"I usually tell those in my ministry, don't criticise God's people, especially the ministers of God. Leave them alone for the Bible says 'whatever they do, they do them unto the Lord."
"You're not the one to accuse another man's servant. Don't join anybody to criticise other ministers. I tell my family members the same thing. Leave them alone because there are curses against those who do so.
According to him, if someone goes ahead to criticize or lay accusations against pastors, such a person would suffer dire consequences.
He further argued that it is ignorance for anyone to criticize clerics or ministers of God as they are popularly called in Nigeria.
He added:
"If you do, you find out sickness won't leave your home, there would always be one terrible thing about your family. So, don't join those who do that, they are ignorant."
Join Whatsapp for latest Update