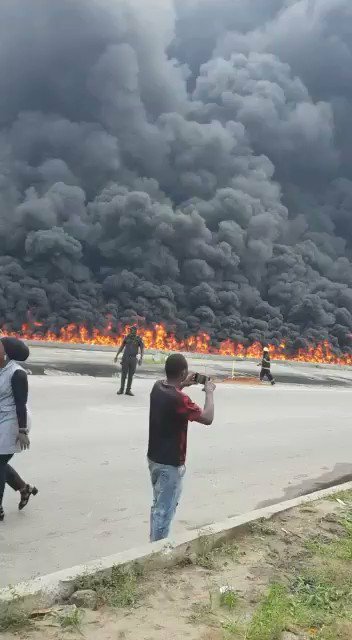 A tanker explosion has occurred on both lanes around Toyota bus-stop inwards mile 2, along Oshodi/Apapa expressway in Lagos state.
Social media posts seen suggest emergency response teams are already on ground to control the inferno.
The Nation is reporting that no casualty has been recorded yet as a result of the incident.
The incident is said to have caused huge traffic along the axis as many motorists have been caught-up close to the accident scene.
Some residents say the incident happened close to a fire station hence the quick response from firefighters.
Cases of fire outbreaks in Lagos state have become a perennial problem in recent times.
Many people have faulted the responsiveness of fire services and emergency first responders in the country, who have been reputed to always arrive late and without sufficient equipment to the scene of fire incidents.
There have also been renewed calls for the federal and state governments to adequately fund the fire department and emergency agencies, while the culture of insuring properties is not imbibed by Lagos residents to mitigate the damage and misery of the misfortune.
Experts say incessant cases of fatal fires in Lagos state resulting in loss of lives and property has resulted in huge economic losses.
Join Whatsapp for latest Update