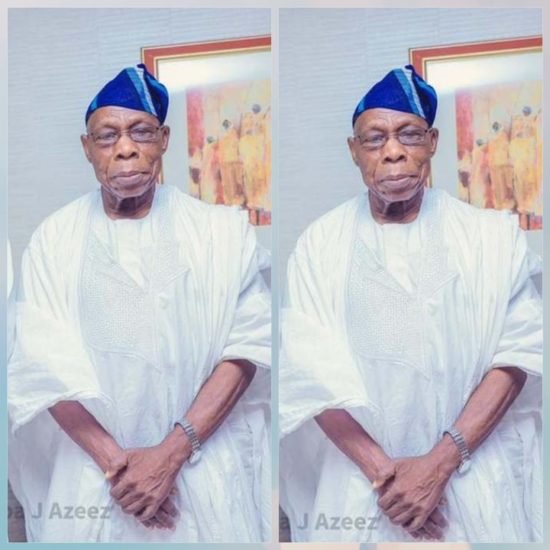 Olusegun Obasanjo Turns 84 Today!
Chief Olusegun Matthew Okikiola Aremu Obasanjo, GCFR, (born 5 March 1937) is a Nigerian political and military leader who served as Nigeria's head of state from 1976 to 1979 and later as its President from 1999 to 2007. Ideologically a Nigerian nationalist, he was a member of the People's Democratic Party (PDP) from 1999 to 2015 and again from 2018 onward.

Born in the village of Ibogun-Olaogun to a farming family of the Owu branch of the Yoruba, Obasanjo was educated largely in Abeokuta. Joining the Nigerian Army, where he specialised in engineering, he spent time assigned in the Congo, Britain, and India, rising to the rank of major. In the latter part of the 1960s, he played a senior role in combating Biafran separatists during the Nigerian Civil War, accepting their surrender in 1970. In 1975, a military coup established a junta with Obasanjo as part of its ruling triumvirate. After the triumvirate's leader, Murtala Mohammed, was assassinated the following year, the Supreme Military Council appointed Obasanjo as head of state. Continuing Murtala's policies, Obasanjo oversaw budgetary cut-backs and an expansion in access to free school education. Increasingly aligning Nigeria with the United States, he also emphasised support for groups opposing white minority rule in southern Africa. Committed to restoring democracy, Obasanjo oversaw the 1979 election, after which he handed over control of Nigeria to the newly elected civilian president, Shehu Shagari. He then retired to Ota, Ogun, where he became a farmer, published four books, and took part in international initiatives to end various African conflicts.

In 1993, Sani Abacha seized power in a military coup. Openly critical of Abacha's administration, in 1995, Obasanjo was arrested and convicted of being part of a planned coup, despite protesting his innocence. While imprisoned, he became a born again Christian, with providentialism strongly influencing his subsequent worldview. He was released following Abacha's death in 1998. Entering electoral politics, Obasanjo became the PDP candidate for the 1999 presidential election, which he won comfortably. As president, he de-politicised the military and both expanded the police and mobilised the army to combat widespread ethnic, religious, and secessionist violence. He withdrew Nigeria's military from Sierra Leone and privatised various public enterprises to limit his country's spiralling debt. He was re-elected in the 2003 election. Influenced by Pan-Africanist ideas, he was a keen supporter of the formation of the African Union and served as its chair from 2004 to 2006. Obasanjo's attempts to change the constitution to abolish presidential term limits were unsuccessful and brought criticism. In retirement, he earned a PhD in theology from the National Open University of Nigeria.

Obasanjo has been described as one of the great figures of the second generation of post-colonial African leaders. He received praise both for overseeing Nigeria's transition to representative democracy in the 1970s and for his Pan-African efforts to encourage cooperation across the continent. Critics maintained that he was guilty of corruption, that his administrations oversaw human rights abuses, and that as President he became too interested in consolidating and maintaining his personal power.

Personal life

Obasanjo lived a polygamous lifestyle. Obasanjo married his first wife, Oluremi Akinlawon, in London in 1963; she gave birth to his first child, Iyabo, in 1967. Iyabo had a close relationship with her father. Oluremi was unhappy that Obasanjo maintained relationships with other women and alleged that he beat her. They divorced in the mid 1970s. That decade, Obasanjo began a common-law relationship with NTA reporter Gold Oruh who bore him two children.

He married his second wife, Stella Abede, in 1976, having met her on a visit to London. He married Stella in 1976, and she bore him three children. Obasanjo's other partners include businesswoman Lynda Soares who was murdered by car thieves in 1986. On 23 October 2005, the President lost his wife, Stella Obasanjo, First Lady of Nigeria the day after she had an abdominoplasty in Spain. In 2009, the doctor, known only as 'AM', was sentenced to one year in jail for negligence in Spain and ordered to pay restitution to her son of about $176,000. He was largely private about his relationships with these women. Some of his children were resentful that he gave them no special privileges and treated their mothers poorly.

Ethnically, Obasanjo is Yoruba, a cultural identification he reflected in his speech and choice of clothing. However, he always foregrounded his Nigerian identity above his Yoruba one, repeatedly stating that "I am a Nigerian who happens to be a Yoruba man. I am not a Yoruba man who happens to be a Nigerian." Throughout his life he expressed a preference for rural over urban life. He has been a lifelong teetotaller. He has been characterised as having a sense of discipline and duty, and emphasised what he saw as the importance of leadership. He was meticulous at planning, and Iliffe called him an "instinctively cautious man". Obasanjo always emphasised the importance of deferring to seniority, a value he had learned in childhood. Iliffe described Obasanjo as a man with "great physical and intellectual energy" who "exercised power with skill and ruthlessness, sometimes unscrupulously but seldom cruelly". Erfler similarly stated that, although Obasanjo could appear "boorish and dull", he had a "sharply perceptive mind" and the capacity to be "tough and ruthless". He had, according to Iliffe, a "remarkable capacity for work". He was cautious with money, living modestly and seeking financial security by investing in property. He is softly-spoken.

In his sixties, Obasanjo would regularly work 18 to 20 hour days, getting very little sleep. He would start each day with prayers. Obasanjo suffers from diabetes and high blood-pressure. He enjoyed playing squash.

Obasanjo's writings after his imprisonment reflected his commitment to Biblical literalism. He called the Darwinian theory of evolution a "debasing, devaluing and dehumanising" idea. After his release from prison his writings placed far less emphasis on traditional culture as a guide to morality, calling on fellow Nigerians to reject much of their pre-Christian "way of life." Iliffe noted that Obasanjo's born-again Christianity was "strikingly orthodox" and was aligned with mainline Baptist teaching. He rejected the prosperity gospel that was taught by some Pentecostalists in Nigeria. Providentialism also became a key part of his worldview after his imprisonment.

In addition to a variety of other chieftaincy titles, Chief Obasanjo is the holder of the title of the Olori Omo Ilu of Ibogun-Olaogun. A number of other members of his family hold or have held chieftaincies as well.
Join Whatsapp for latest Update