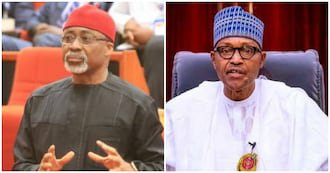 The minority leader of the 9th Nigerian Senate, Eyinnaya Abaribe, has knocked President Muhammadu Buhari over his New Year day speech.
The Nation reports on Friday, January 1 that Senator Abaribe released a statement accusing President Buhari of making excuses for the inadequacies of his administration.
He noted that while lawmakers are ready to work with the president, it is important that the presidency also admits its errors and shortcomings.
He said:
"The legislature, particularly the minority caucus is ready to cooperate with the presidency in any sincere and genuine effort to tackle insecurity in our country and keep our people safe."
"Nonetheless, President Muhammadu Buhari must as a fact face governance and stop making excuses at every turn, especially his penchant at making references to 2015 as reasons why he fails to perform."
Senator Abaribe argued that that President Buhari's continuous blaming of his administration's mistakes on the past was unacceptable.
"The President is elected to provide governance, by so doing he must be ready to proffer solutions, right wrongs where it exists and solve problems besetting the country in every facet and not always relapse to advancing excuses to explain away palpable failures."
Just like Abaribe, President Buhari's New Year day national broadcast is not sitting well with the lawmaker's party Peoples Democratic Party (PDP).
The opposition party, in its reaction to the president's speech, released a statement titled: Buhari's New Year Address, Empty, Directionless.
The PDP accused the Nigerian leader of presenting a speech that was "a script full of lame excuses and empty promises that addressed nothing"
Join Whatsapp for latest Update