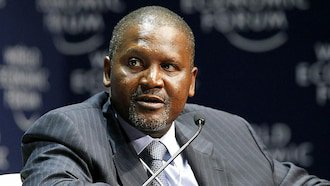 It does not seem to be a bright new year yet as Aliko Dangote, Africa's richest man, reportedly lost a total of $900 million within 24 hours, according to a report by Bloomberg.
Converted, it means that the president of the Dangote group lost N343,125,000,000 as his company was rated the biggest loser loser at the end of trading on the Nigerian Stock Exchange.
With the loss, Dangote's wealth reportedly fell from $18.4 billion to $17.5 billion on Friday, January 8 as published by the Bloomberg Billionaires Index.
However, despite the loss, Dangote still maintained a place among the 500 billionaires across the world and is now number 114 on the list of the wealthiest people in the world.
He was 106th before the loss. He is now the only Nigerian on the list reported by Bloomberg.
Dangote made some further fortunes towards the end of 2020 with his wealth jumping from $15.5 billion on December 13 to $17.8 billion.
When the world entered a new year 2021, he further gained $600 million within the first week.
Join Whatsapp for latest Update